Product Description
---
A Trio of Killer Synth Plug-ins
Experience three of Waldorf's best-selling synthesizer and effects plug-ins with Waldorf Edition 2. PPG Wave 2.2V is a virtual re-creation of the legendary 1980s-era wavetable synth of the same name. Attack is a percussion module that delivers classic analog drum machine sounds, modern electronic beats, and everything in between. And just like its hardware equivalent, D-Pole allows you to twist, mangle, and otherwise liven up your sound using five filter types and an array of other effects. All three plug-ins feature revamped user interfaces and an expanded effects section. So what are you waiting for? Drop Waldorf Edition 2 into your plug-in folder and benefit from endless sonic possibilities.
PPG Wave 2.2V — re-creation of a trailblazing synth
Back in the '80s, the PPG Wave revolutionized synthesizers by combining a digital sound engine with analog filters. This synth quickly earned distinction from traditional analog synthesizers, and their devotees are a who's who of popular artists. Waldorf's PPG Wave 2.2V plug-in captures the magic of the original hardware, injecting your virtual studio with the feisty analog and digital hybrid sounds that graced countless hit records.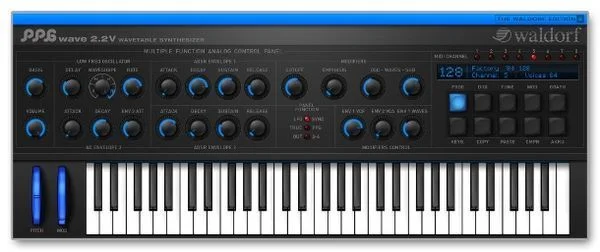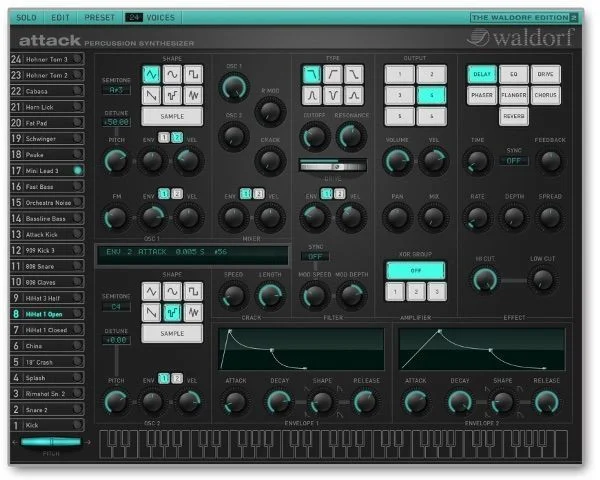 Attack — classic electronic percussion
Powered by a robust virtual-analog synth engine, Attack takes the trademark sounds of classic '80s drum machines, as well as the throbbing electronic club drums of the '90s, and introduces them into a modern production workflow. At Sweetwater, we enjoy the immediacy provided by Attack — its sounds are generated in real-time, so you can alter the parameters directly and hear the results instantaneously.
D-Pole — creative sound warping
Loaded with five filter types, as well as sample rate reduction, a ring mod, overdrive, and stereo delay, D-Pole allows you to twist, mangle, and warp sounds into fascinating new creations. Morph an acoustic drum loop into a biting dance rhythm. Whip your lead guitar into an overdriven frenzy. Craft wildly experimental sounds. Then send it all through stereo delay a create some untamed cacophony.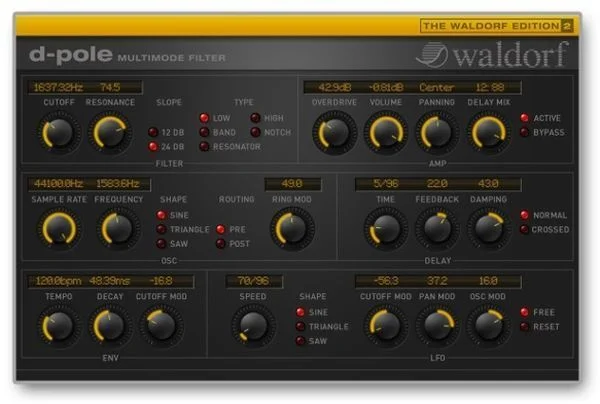 Waldorf Edition 2 Features:
3 classic synthesizer virtual instruments
PPG Wave 2.2V is a virtual re-creation of the legendary 1980s-era wavetable synth
Attack delivers classic analog drum machine sounds, modern electronic beats, and everything in between
D-Pole allows you to twist, mangle, and otherwise liven up your sound
---
View Installation Instructions
Tech Specs
Software Type:

Synthesizer virtual instruments

Platform:

Mac, PC

Upgrade/Full:

Full

Download/Boxed:

Download

Bit Depth:

32-bit, 64-bit

Format:

AAX Native, VST2, VST3, AU, NKS

Hardware Requirements - Mac:

Intel Core 2 Duo or higher, 4GB RAM or recommended

Hardware Requirements - PC:

Intel Core 2 Duo / AMD Athlon 64 X2 or higher, 4GB RAM or recommended

OS Requirements - Mac:

OS X 10.9.5 or later

OS Requirements - PC:

Windows 7 SP1 or later