Product Description
---
BBD-style Analog Delay with Colouration Controls
u-he's Colour Delay is a classic BBD-style effect, extended with modern features. Experience the full gamut of analog delay effects with a 1ms to 1s or host-synched time base, scaled via rate control from 25% to 400%. Infuse your delays with exciting saturated textures using this plug-in's feedback coloration controls. Create a dynamic ducking effect with its built-in envelope follower. Modulate rate, tap position, or amplitude with its onboard LFO. You also get MIDI note tracking and an infinite loop button for generating wild experimental sounds, while independent input and feedback routing permit unlimited stereo or mono combinations. Colour Delay includes a useful preset browser with tag/text search and a resizable interface.
Exciting saturated textures
u-he's Colour Delay delivers a full range of classic bucket brigade-style delays. With a twist of a knob, you can continuously blend between five different colours. Each colour exhibits a different frequency bandwidth, in addition to noise and dynamic characteristics, frequency loss during repeats, and more. Control the intensity of these characteristics with the Saturation knob, then use the Brightness knob to dial in your bandwidth. You also get a Floor switch with Vintage/Low options.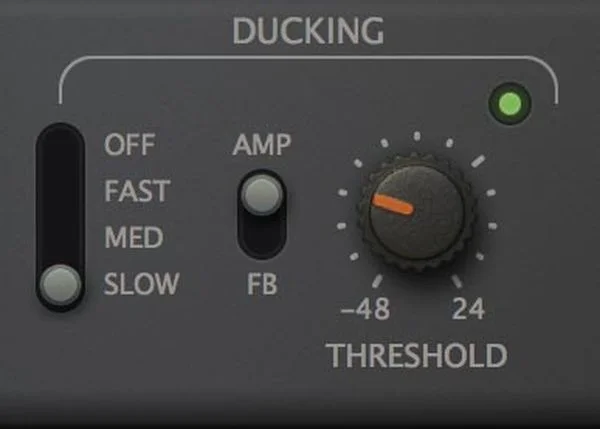 Dynamic ducking effect
At Sweetwater, we appreciate Colour Delay's unique dynamic ducking effect. An Amp/FB switch allows you to duck the entire delay output or just the feedback signal, which preserves your stereo space while eliminating high-regeneration cacophony. You also get a ducking mode switch for tweaking the effect's response, along with a Threshold knob for setting the minimum input signal level.
Generate compelling modulated sounds
Use Colour Delay's stereo LFO to modulate its delay rate, tap position, or amplitude. Choose between sine or triangle wave modulation. Generate interesting chorus, vibrato, and tremolo effects, using the Frequency knob to control the LFO's speed, or crank the Depth knob for deep pitch-shifting. You can use an envelope follow signal to modulate the LFO frequency and depth to add real-time dynamics to your effects. Beyond that, a Stereo Phase knob gives you command over the phase difference between the left and right LFO signal.

u-he Colour Copy Features:
BBD-style analog delay plug-in

1ms-1s or host-synched time base, scaled via rate control from 25%-400%

Feedback colouration controls infuse your delays with exciting saturated textures

Dynamic ducking effect with an option that preserves the initial delay

Onboard LFO modulates its delay rate, tap position, or amplitude

MIDI note tracking allows for mono synth-like operation

Infinite loop button loops the contents of the delay buffer for as long as you like

Independent input and feedback routing permit unlimited stereo or mono combinations

Useful preset browser with tag/text search

Resizable interface from 70%-200%
---
View Installation Instructions
Tech Specs
Software Type:

Delay

Platform:

Mac, PC

Upgrade/Full:

Full

Download/Boxed:

Download

Bit Depth:

32-bit, 64-bit

Format:

AAX, VST2, VST3, AU, NKS

Hardware Requirements - Mac:

Intel Core i3 or higher, 4GB RAM or more recommended

Hardware Requirements - PC:

Intel Core i3 or higher, 4GB RAM or more recommended

OS Requirements - Mac:

OS X 10.9 or later

OS Requirements - PC:

Windows 7 SP1 or later