Product Description
---
40 Years of Top-quality Digital Reverbs
Slate Digital VerbSuite Classics is a plug-in suite that's packed with eight of the industry's most-used digital reverbs. Delight in rich, smooth, dynamic ambience, thanks to LiquidSonics' celebrated Fusion IR processing. Take command of every aspect of your sound with ample adjustable parameters. Sculpt your reverb's tone to perfection with a 3-band EQ, and adjust your mix with the utmost precision, by way of a Dry/Wet control. Enjoy a blazing-fast workflow, by virtue of VerbSuite Classics' Preset System, which includes a handy A/B System for comparing settings. Fire up Slate Digital VerbSuite Classics, and inject your DAW with 40 years of top-quality digital reverbs. This product requires a 2nd Generation iLok or higher (not included) for authorization. Please call your Sweetwater Sales Engineer if you have questions.

LiquidSonics Fusion IR processing yields incredible reverbs
When Slate designed VerbSuite Classics, they aimed to create the best reverb models possible. That's why they teamed with the reverb gurus at LiquidSonics. Because every plug-in in this suite employs LiquidSonics' acclaimed Fusion IR processing, they capture the subtle tonal nuances of each modeled reverb. Most convolution reverbs use static impulses, but not this one. Every plug-in faithfully replicates the evolving character of a modulating digital reverb. Thanks to Fusion IR, you'll experience rich, smooth, dynamic reverbs every time you instantiate VerbSuite Classics.
Achieve complete control over your reverb parameters
At Sweetwater, we're delighted by the number of adjustable parameters provided by Slate Digital VerbSuite Classics. Increase or decrease the length of your reverb with the Decay control. Alter the perceptual size of your virtual room with the Attack control. Impart clarity with the Pre-delay control. Achieve basic mid-side processing with the Width control and thicken things up with the Chorus control. You also get a 3-band EQ to shape your reverb's overall color, and a Dry/Wet control for adjusting your reverb blend.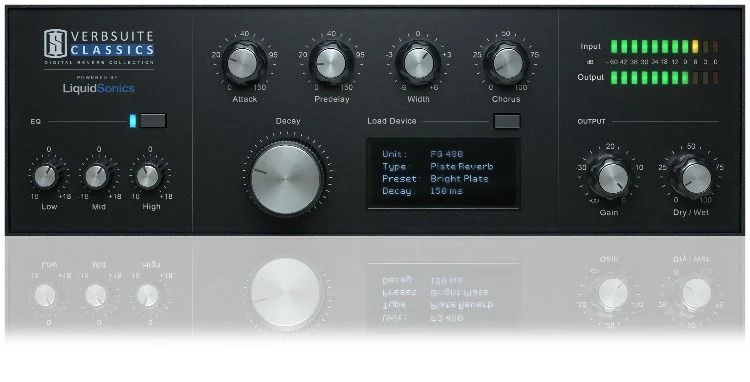 Reverb models include:
FG-480

If there's such a thing as an industry-standard reverb, this is it. Widely used by top engineers, this reverb imparts a classic sound that works well in just about any mix.

FG-2016

This American-made reverb made a huge splash when it was released in 1982, primarily because of its ability to re-create the sound of a physical room with astounding realism. You've heard this one on countless hit records.

FG-250

Looking for an easy-to-mix reverb? Look no further. This German-crafted reverb's thick tone sounds amazing on just about anything. It's hard to believe that the original unit only had 16k of memory!

FG-QRS

Any pro that's used this reverb loves it — especially on vocals. That being said, its incredibly transparent sound makes just about everything sound awesome. Another German import, this reverb was all the rage in the early '80s.

FG-2000

Killer drums. That's what you get with this one. The original Japanese unit is nearly impossible to find, making this reverb a must-have for your arsenal. Oh, and it rocks on guitars, pianos, and vocals, too.
FG-16X

This is the

famous early '80s microprocessor-controlled digital reverb. Listen to the iconic drum fill in the middle of Phil Collins' "In the Air Tonight," and you'll gain a pretty good understanding of what this smooth, lush reverb is capable of.
FG-6000

Experience incredibly realistic, smooth, and deep sounds with this reverb. This Danish digital reverb powerhouse is sure to get lots of use in your studio. Trust us, you'll be hooked after one test drive.

FG-BM7

If you want to get your hands on what many professionals have called the best-sounding digital reverb of all time, here it is. Gain a new palette of sounds that encompass the familiar, as well as new expressions in the art. Slate's take on the venerable Bricasti M7 is destined to become your go-to reverb. This is a free expansion pack downloadable from LiquidSonics.
"Talk about the ultimate reverb. I can finally use all my favorite reverbs that they don't even make any more"
George Acosta | Worldwide DJ and Music Producer
Slate Digital VerbSuite Classics Plug-in Suite Features:
Plug-in suite with 8 of the industry's most-used digital reverbs
LiquidSonics' Fusion IR processing captures the subtle tonal nuances of each modeled reverb
Highly tweakable with Decay, Attack, Pre-delay, Width, and Chorus controls
3-band EQ shapes the color of your reverb
Dry/Wet control for adjusting your mix output
Preset System expedites your workflow by using predefined configurations
A/B System for comparing settings
---
View Installation Instructions
Software Type:

Reverb

Platform:

Mac, PC

Upgrade/Full:

Full

Download/Boxed:

Download

Bit Depth:

64-bit

Format:

AAX, VST2, VST3, AU

Authorization Type:

iLok 2 or later

Hardware Requirements - Mac:

Intel Quad Core i5 or higher, 4GB RAM or more recommended

Hardware Requirements - PC:

Intel Quad Core i5 or higher, 4GB RAM or more recommended

OS Requirements - Mac:

macOS 10.12 or later

OS Requirements - PC:

Windows 7 SP1 or later