Product Description
---
Re-creates a Coveted Blue FET Compressor and More!
Slate's FG-116 Blue faithfully captures the tone and character of two vintage FET limiters/compressors — but that's not all! It also offers two unique modernized versions of this classic circuit. What's more, this indispensable plug-in offers features not available on the original hardware units, such as highpass detection and built-in parallel processing. Whether you use it on individual tracks or strap it across your entire mix, the FG-116 Blue is destined to become an important part of your plug-in arsenal.
Note: This product requires an iLok (not included) for authorization. Please call your Sweetwater Sales Engineer if you have questions.
Vintage FET Limiting
Vintage Circuit 1

delivers the classic mid-forward character that makes blue-striped FET compressors such coveted items. Great for vocals, bass, drums, and guitars alike, this circuit produces softer highs and lows than the Black 116, along with irresistible harmonic distortion that adds wonderful coloration to your upper mids.

Vintage Circuit 2

is modeled after a "rev A" unit that has been updated and refurbished. This circuit has bigger lows and smoother mids and highs than Vintage Circuit 1 — at Sweetwater, we love to slam drum room mics with this one and apply it to vocals that beg for some FET-style compression, all without the mid-forward character inherent in Vintage Circuit 1.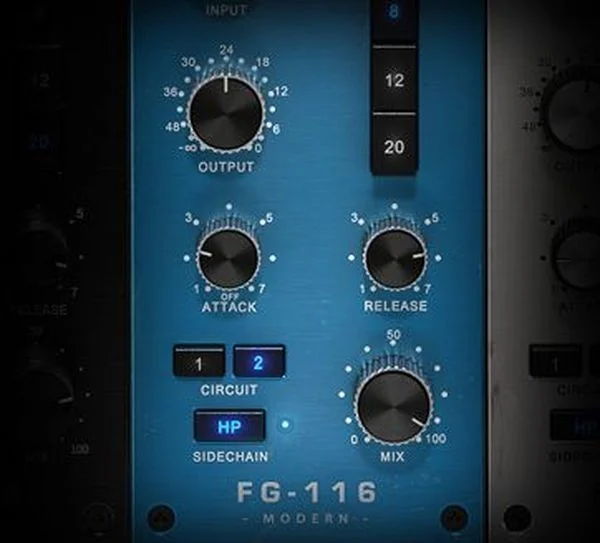 Modern FET Limiting
Modern Circuit 1

has a slower attack, enabling you to use it on close drum mics to add punch and extended decay. You can also apply it to bass guitar to give it some edge, or use it sparingly to tighten up your kick drum.

Modern Circuit 2

's bottom end is a bit more breathable than Modern Circuit 1, which gives it more punch and a smoother response. This circuit really shines on drum bus applications, as well as on full mixes.
Includes features that weren't available on the originals
Slate's FG-116 Blue does much more than simply model a piece of hardware — it also supplies you with modern features that are guaranteed to make your life easier. Benefit from effortless parallel compression, thanks to the Mix control. By dialing this control back to 25%, you can slam something without over-compressing it. Beyond that, the FG-116 Blue's Sidechain button activates a highpass filter that enables the compressor to ignore low frequencies — no more unwanted pumping effects!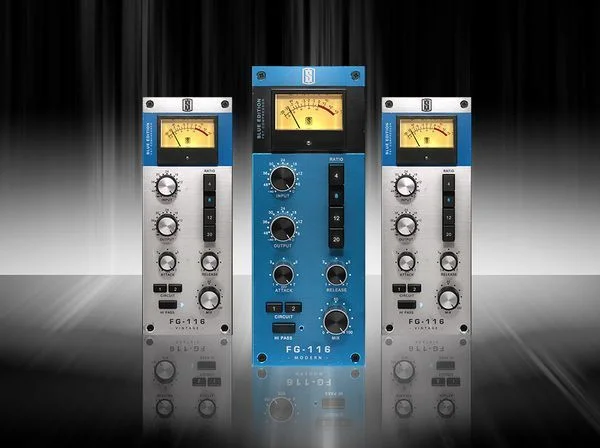 Slate Digital FG-116 Blue Series Plug-in Features:
Faithfully captures the tone and character of a vintage FET limiter/compressor

Includes 2 vintage circuits and 2 modern circuits

Mix control provides effortless parallel compression — avoid over-compression

Sidechain button activates a highpass filter — no more unwanted pumping effects

Sounds great on individual tracks or strapped across an entire mix
---
View Installation Instructions
Tech Specs
Software Type:

Compressor

Platform:

Mac, PC

Upgrade/Full:

Full

Download/Boxed:

Download

Bit Depth:

64-bit

Format:

AAX, VST2, VST3, AU

Authorization Type:

iLok 2 or later

Hardware Requirements - Mac:

Intel Quad Core i5 or higher, 4GB RAM or more recommended

Hardware Requirements - PC:

Intel Quad Core i5 or higher, 4GB RAM or more recommended

OS Requirements - Mac:

macOS 10.12 or later

OS Requirements - PC:

Windows 7 SP1 or later