Product Description
---
This Plug-in Will Revitalize Your Mix Bus
Tailor-made for mastering and 2-bus applications, the PSP Audioware MasterComp will simultaneously control and revitalize the dynamics of your mix. This compressor plug-in employs double-precision, 64-bit floating point processing and is double sampled using PSP's proprietary FAT algorithm. This ensures the utmost in transparency, even with extreme compression settings. The MasterComp boasts over-threshold compression and expansion, and it's a breeze to deploy, thanks to optional automatic attack and release times. Its wide range of mastering-centric features includes a mix knob, an optional brickwall output limiter, and advanced sidechaining capabilities. You also get a streamlined, CPU-efficient version of the plug-in that's great for processing individual tracks. Selectable M-S or stereo processing and adjustable PPM/VU meters round out the MasterComp's impressive features.
Note: This product requires that you have an iLok account for authorization, although it does not require a physical iLok key. Please call your Sweetwater Sales Engineer if you have questions.
Contains tons of powerful mastering-centric features
The MasterComp comes loaded with features dedicated to giving you the best-sounding master possible. PSP's optional Smooth Level Detector algorithm — with time-saving automatic attack and release times — ensures a clean, distortion-free result. This plug-in delivers both over-threshold compression and expansion, with advanced sidechain filtering that cuts or boosts frequencies between 25–400Hz on the low end and between 1–16kHz on the high end. You also get a Link knob that adjusts the compression dependency between sidechain channels, and a Tilt knob that tweaks the sidechain balance. A Mix knob blends between your processed and unprocessed signal for New York-style parallel compression. An optional brickwall output limiter with an automatic release time injects your master with a final bit of punch. Finally, selectable Mid, Side, Left, Right, and Stereo channel processing gives you ultra-precise control over your final result.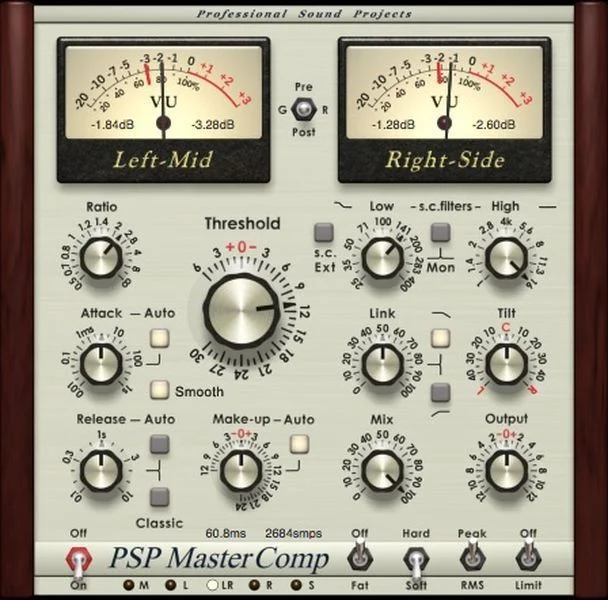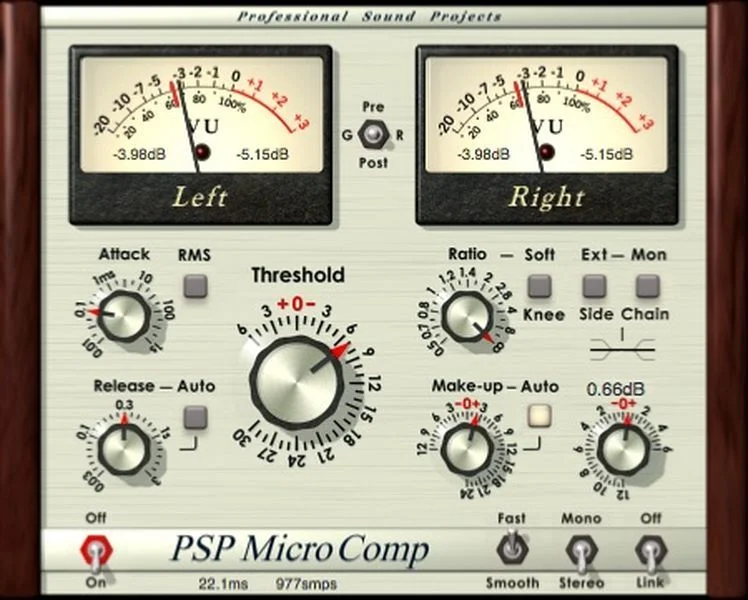 Includes a separate, streamlined plug-in for mixing applications
While it sounds amazing, here at Sweetwater we've found the PSP MasterComp to be a system-intensive compressor plug-in. This is fine for mastering. After all, you're only instantiating one plug-in. But what if you want to use several instances in a mix? No problem. The MasterComp comes with MicroComp — a separate, CPU-efficient version of the plug-in with a simple, effective control layout that's optimized for mixing. This streamlined processor includes many of the MasterComp's features, including over-threshold compression and expansion, an optional automatic release time, basic sidechain filtering and channel linking, and adjustable PPM/VU meters.
PSP Audioware MasterComp Features:
Mastering-style compressor with 64-bit floating point processing
FAT (Frequency Authentication Technique) algorithm ensures transparency with extreme settings
Delivers over-threshold compression and expansion
Smooth Level Detector algorithm with time-saving automatic attack and release times
Advanced sidechain filtering with Link and Tilt knobs for tailoring the compressor's behavior
Mix knob blends between your processed and unprocessed signal for effortless parallel compression
Optional brickwall output limiter with an automatic release time
Separate, CPU-friendly MicroComp is tailor-made for mixing applications
Selectable Mid, Side, Left, Right, and Stereo channel processing
Adjustable PPM/VU meters make keeping an eye on your levels a piece of cake
---
View Installation Instructions
SYSTEM REQUIREMENTS:
PC:
VST3: Windows x32 or x64 (7, 8 or 10); VST3 compatible application
VST: Windows x32 or x64 (7, 8 or 10); VST 2.4 compatible application
RTAS: Windows x32 or x64 (7,8 or 10); ProTools 8.0.0 (or later)
AAX: Windows x32 or x64 (7,8 or 10); Pro Tools 10, 11, 12 or ProTools HD 10, 11, 12 or ProTools Ultimate
All DAWs: The latest iLok License Manager application installed
OS:
AudioUnit: Mac OSX 10.8 – 10.15 or later; 32 or 64-bit compatible host application
VST: Mac OSX 10.8 – 10.15 or later; 32 or 64-bit VST 2.4 compatible host application
VST3: Mac OSX 10.8 – 10.15 or later; 32 or 64-bit VST 3 compatible host application
RTAS: Mac OSX 10.8, 10.9, 10.10 or 10.11; ProTools LE 8.0.0 or ProTools TDM 8.0.0 (or later)
AAX: Mac OSX 10.8 – 10.15 or later; ProTools 10, 11, 12 or ProTools HD 10, 11, 12 or ProTools Ultimate
All DAWs: Up to date iLok License Manager application installed