Product Description
---



Smart. Simple. Sexy.
Low Tides uses advanced signal processing to display frequencies with 80% less latency compared to industry-standard tools. It features an intuitive interface to complement your creative flow and looks beautiful while doing it!
Speed Matters
Typical spectrum analyzers have up to half a second of latency, making it incredibly difficult to track down split-second issues in the mix. Low Tides fixes this, with a latency of less than the blink of an eye. This translates to better mixes and a smoother creative workflow.
Emphasis on Instruments
Most instruments start in the 20Hz to 2kHz range. Low Tides zooms into this range with 2.5x the resolution compared to industry leading analysis software. This, coupled with powerful harmonic inspection tools makes Low Tides the most effective way to analyze tracks within your DAW.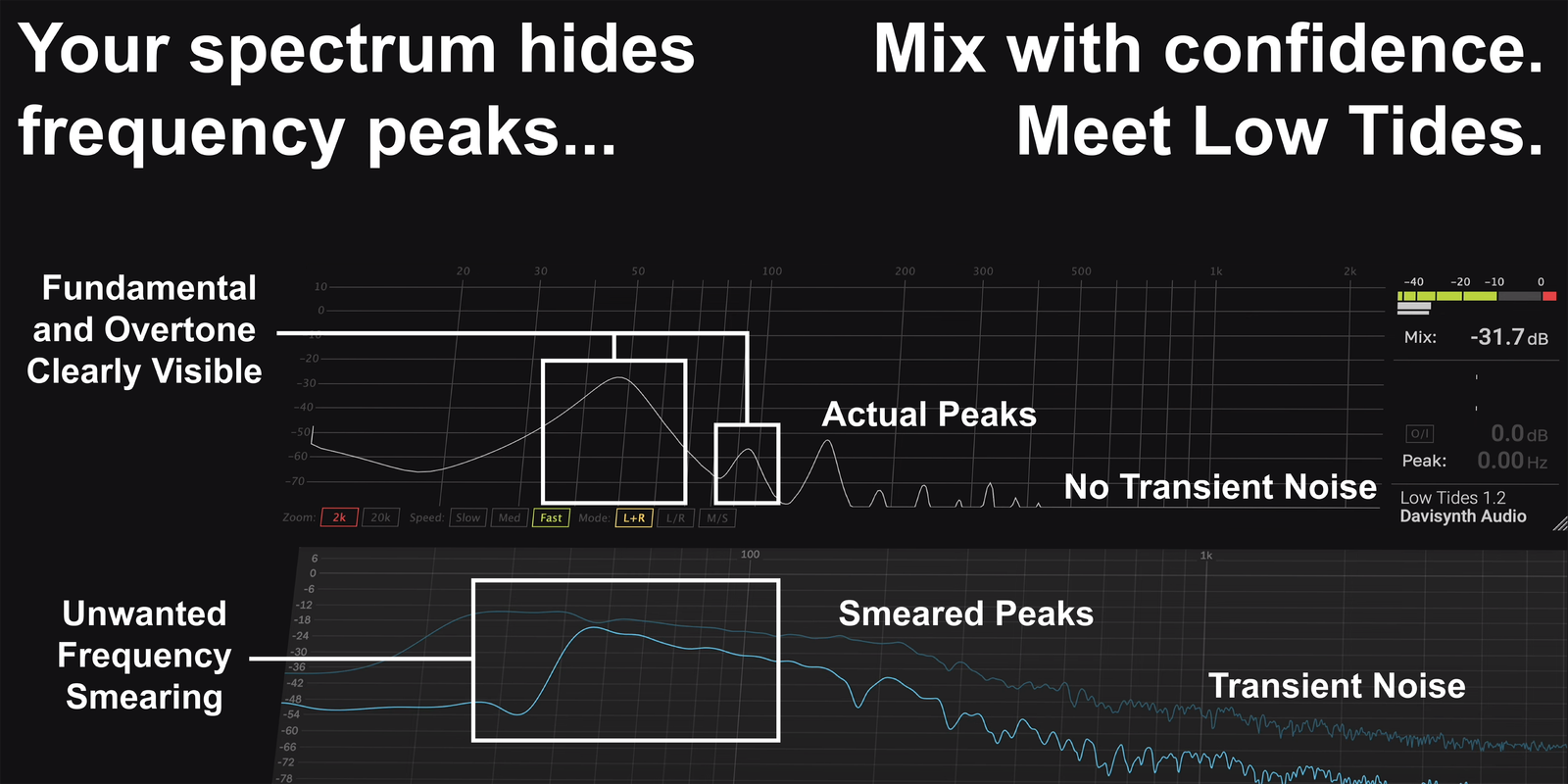 Testimonials
"I have tons of analyzers but this is so nice and simple to use and that pitch tracking range is amazing, super useful, well done!!!"
"Super smooth I love this thing!"
"I wish this was default in Ableton it's so much nicer."
Head-to-Head
---
View Installation Instructions
Introduction
Low Tides is a high-performance spectrum analyzer optimized for analysis of low frequency transients. It features a traditional spectrum analyzer view, a dB meter, and a tool to analyze the frequencies of spectral peaks. Low Tides is available for 64 bit Windows and Mac OSX (Universal Binary).
Features and Functions

Spectrum View Modes
Zoom: Toggle between 2kHz and 20kHz max frequency.
Speed: Set the spectrogram reaction speed to frequency changes.
Mode: Toggle between Left+Right (mid), Left/Right split view, and Mid/Side split view.
Peak Frequency Meter
Find and track peak frequencies across the spectrum. This meter displays the frequency, note, and dB for the peak to within 0.2Hz. Press [O/I] to toggle this meter. Use the scroll wheel to change the peak region size.
VU/LUFS-Style dB Meter
Quickly monitor both the average and instantaneous dB of the track.
Installation
After purchasing Low Tides, you will receive a serial number to be registered at the Davisynth website.
To register, follow the steps below:
If you do not have one already, make an account at https://www.davisynth.com/my-account/
Once signed in, visit your account dashboard, and scroll down to the product registration input field
Copy your serial number (dashes included) and click "Submit"

After entering a valid serial number, Low Tides will show up as a download in your account dashboard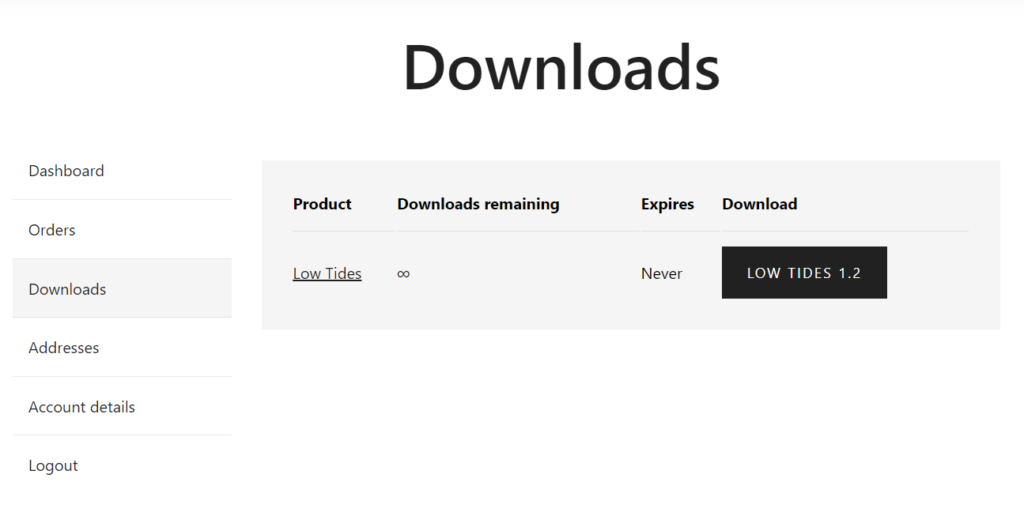 As of version 1.2, Low Tides ships in a .zip archive. Users should extract the archive and follow the installation steps in INSTALLATION.txt for both OSX and Windows.
If you run into any issues during installation, feel free to contact john@davisynth.com so we can work together to get Low Tides working on your system