Product Description
---
It's All About the Tubes
The Virtual Tube Collection puts you — and your music — in your own virtual vintage control room. In the development stage of this groundbreaking software, Slate Digital spent over a year hand-selecting and meticulously modeling several truly outstanding vintage tube preamps, line amps, and consoles. The result, VTC, gives you three plug-ins for the Slate Virtual Mix Rack that re-create the sound of these classic tube circuits. With the Virtual Tube Collection, you can add warmth, depth, coloration, and vibe to your mixes and masters. And if you're a Virtual Microphone System user, you can also use VTC preamps with your mic models to achieve a rich, vibe-laden tone on your tracks. Used in either preamp or console mode, the included London, New York, and Hollywood modules all have different sonic personalities and saturation/coloration characteristics. With the normal/boost switch flipped upward, the effect is intensified.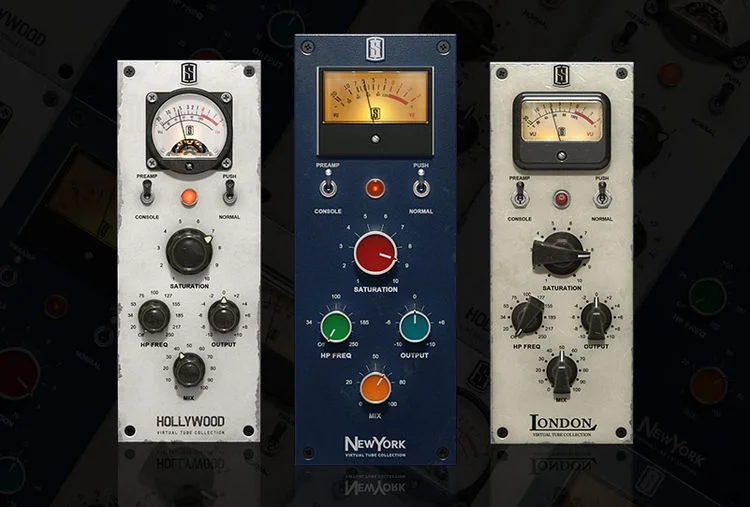 London
The London module delivers a big, bold, bottom, and lower midrange, and a smooth high end that doesn't get brittle when you push it. The transient response is slightly thick without being overly assertive. London's great for beefing up tracks in preamp mode and thickening with its preamp saturation; in console mode, it's perfect for adding analog fatness to an entire mix.
New York
The New York plug-in combines models of the vintage tube and discrete solid-state circuits to deliver an aggressive midrange along with a tight bottom end — courtesy of its unique dynamic harmonic saturation. Use it in preamp mode for adding punch and focus to tracks; switch to boost to intensify the effect. New York also works wonders in console mode when strapped across the mix bus; dial in the saturation, then find your perfect blend with the mix knob.
Hollywood
Hollywood may be the most colorful of the trio: very exciting; with gorgeous air, depth, and a massive low end. Use it in boost mode to breathe new life into iron-poor tracks. Pair it with vintage VMS mics to add extra high-end flavor and warm bass. In console mode, let it transform a DOA mix into a radio-ready beast. Sweetwater's advice: if you're already invested in Slate Digital's virtual studio technology, the Virtual Tube Collection is a no-brainer. If not — it's time for a serious audition!
Slate Digital Virtual Tube Collection Features:
3 plug-ins based on classic vintage modeled circuits: London, New York, and Hollywood
Normal mode re-creates realistic properties of the modeled tube circuits
Boost mode amplifies the nonlinearities to add even more color and vibe
Preamp mode models a tube preamp circuit with saturation that emulates cranking the input amplifier while attenuating the output
Console mode emulates a tube summing circuit with its attendant crosstalk and saturation properties
The saturation knob (preamp mode) emulates the sound of preamp saturation
Saturation knob (console mode) replicates mix bus overdrive for adding glue and thick, colorful tone when pushed
Highpass (6dB/octave) cleans up low-end rumble when needed
Mix knob controls balance between the dry unprocessed signal and the wet processed signal for effortless parallel processing
Output controls output level of the processor
---
View Installation Instructions
Tech Specs
Software Type:

Vintage Tube Models

Platform:

Mac, PC

Upgrade/Full:

Full

Download/Boxed:

Download

Bit Depth:

64-bit

Format:

AAX, VST2, VST3, AU

Authorization Type:

iLok 2 or later

Hardware Requirements - Mac:

Intel Quad Core i5 or higher, 4GB RAM or more recommended

Hardware Requirements - PC:

Intel Core i5 / AMD Quad-core or higher, 4GB RAM or more recommended

OS Requirements - Mac:

macOS 10.12 or later

OS Requirements - PC:

Windows 7 SP1 or later