Product Description
---
THE BEST AUTOMATIC TUNER ON EARTH!
Say goodbye to the buggy, expensive automatic tuners. MetaTune is the world's hardest-hitting tuner EVER. Get insane Robo fx with negative speeds, a gorgeous interface that's easy to use, and cool new features like Grouped instances & a built-in Doubler for wide, thick vocals. From subtle, natural pitch adjustments to in-your-face fx, MetaTune is the automatic tuner you've been waiting for.
Hits Even Harder
Looking for that hard-hitting tuning effect that dominates modern music? Your search is over. We studied the leading automatic tuners and went even further with Negative Speed & Note Stabilizer. Get the hardest tuning effect imaginable with no absolutely zero note fluttering.
Easy Interface

MetaTune is dead simple to use, so you don't need to watch dozens of YouTube videos to get started. Its clean, intuitive interface will have you ready to ride in seconds—even if you don't know scales & chords. HeatMaps show you where your notes are landing & how they're being adjusted. It couldn't be easier.


Groups Change the Game
Assign your MetaTune instances to Groups—changing one changes them all. And if you make those changes with automation, you can add dramatic key changes across tons of tracks in seconds. No more manually copying settings from one instance to another. This is automatic tuning the way it was meant to be.
Note: This product requires an iLok (not included) for authorization

Straightforward 3-knob interface
The engineers here at Sweetwater have found navigating MetaTune to be a piece of cake. Three main controls — Speed, Sustain, and Amount — enable you to effortlessly dial in anything from subtle pitch massaging to mind-bending special effects. Want it even simpler? No problem. Click on the Orb to control Speed, Sustain, and Amount from a single location. Beyond that, the plug-in's HeatMaps function displays your original, unprocessed note, along with your new, tuned note, allowing you to nail your target pitch with zero scales and chord knowledge. A familiar piano-style layout rounds out MetaTune's easy-to-use interface.
Craft complex arrangements with Groups
With Slate's MetaTune, crafting complex arrangements is a cinch. Groups enables you to copy all your settings from one plug-in instance to another. Best of all, when you change the settings on one instance, the others change as well — instantaneously.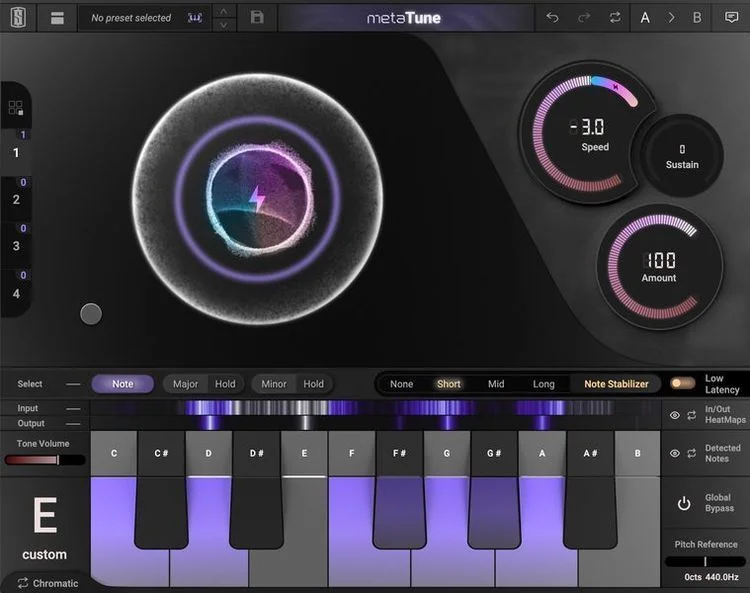 Natural-sounding Note Stabilizer
Have a singer with out-of-control vibrato? MetaTune has your number. Its Note Stabilizer gets rid of unwanted fluttering with the push of a button. Best of all, Note Stabilizer ignores small variations between notes, so you only get the pitch correction you want.
Slate Digital MetaTune Vocal Tuning Plug-in Features:
Offers everything from gentle pitch correction to contemporary robo-style effects
3 main controls — Speed, Sustain, and Amount — enable you to effortlessly dial in your desired sound
Orb controls Speed, Sustain, and Amount from a single location
HeatMaps function ensures that you hit your target pitch — no scale and chord knowledge required
Familiar piano-style layout for selecting specific notes
Groups enables you to copy all your settings from one plug-in instance to another
Natural-sounding Note Stabilizer gets rid of unwanted fluttering
Doubling effect gives you a huge, wide sound
---
View Installation Instructions
Tech Specs
Software Type:

Pitch Correction

Platform:

Mac, PC

Upgrade/Full:

Full

Download/Boxed:

Download

Format:

AAX Native, VST, AU

Authorization Type:

iLok Required