Product Description
---
Maximize your creative possibilities
Now included with Pro Tools subscriptions
Got Pro Tools, Pro Tools | First, or Pro Tools | Ultimate? Sound your absolute best with access to every audio plugin Avid has to offer. The Avid Complete Plugin Bundle provides the amazing sounds of classic compressors and EQs, groundbreaking virtual instruments, studio-staple effects, legendary stompboxes, powerful reverbs, the world's greatest guitar amps, and much more—all at your fingertips. And now the bundle is included with all Pro Tools and Pro Tools | Ultimate subscriptions at no extra charge.
With over 75 individual plugins available across all of these titles, it's like having unfettered access to an entire studio full of prized gear!
Avid Complete Plug-in Bundle Includes:
BBD Delay
Black Op Distortion
Black Shiny Wah
Black Spring
C1 Chorus
Classic Compressors Bundle
DC Distortion
Eleven MK II
Flanger
Focusrite d2/d3
Gray Compressor
Green JRC Overdrive
Impact
304 Bundle
Moogerfooger Bundle
Orange Phaser
Pro Compressor
Pro Expander
Pro Limiter
Pro Multiband Dynamics
Pro Subharmonic
Pultec Bundle
Reel Tape Suite
Reverb One
ReVibe II
Roto Speaker
Smack!
Sound Replacer
Space
Studio Reverb
Tape Echo
Tel-Ray Variable Delay
Tri-Knob Fuzz
Vibe Phaser
Voce Bundle
White Boost
X-Form
Avid Complete Plug-in Bundle Features:
Every audio plug-in that Avid has to offer*
Over 50 plug-ins valued at more than $6,000 for less than $5 a month
Classic compressors and EQs, studio effects, stompboxes, reverbs, guitar amps, and more
Works in Pro Tools, Pro Tools | HD, and Pro Tools | First
No iLok key needed
*Avid HEAT and Aphex Aural Exciter and Big Bottom Pro are not included in the Avid Complete Plug-in Bundle.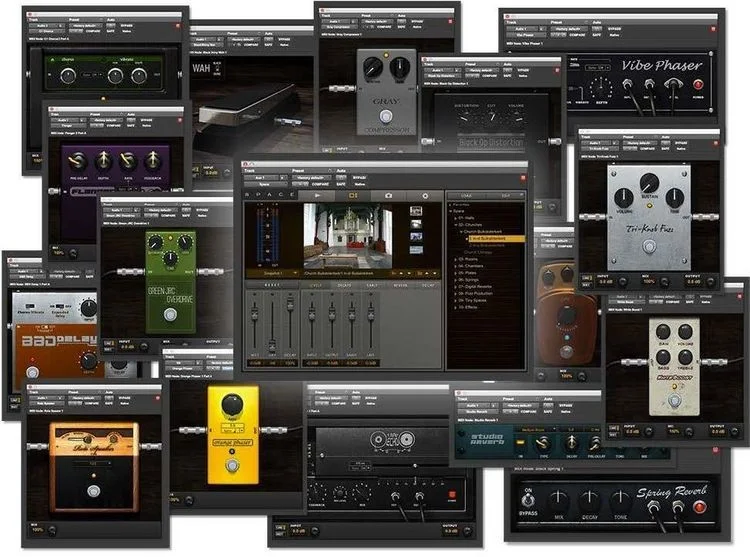 ---
View Installation Instructions
SYSTEM REQUIREMENTS
64-bit versions of Pro Tools | First, Pro Tools, or Pro Tools | Ultimate (iLok account required)
Works on both Windows & Mac