Good day our dear friends! it's been a minute since we last had a chat but we are back with another "product review"!

This time around, we have reviewed a giant of a product all the way from Switzerland called "SWARPLUG". Do not let the manufacturing country fool you, this product is far from Europe and it is actually based in the far east, India to be precise!
When we first heard of "SwarPlug", we were shocked. Cos we have not heard of a plugin fully based on Indian instruments, 80 of them if we have to mention the actual amount of instruments. And they didn't do a bad job! They actually did a marvelous job!

The main interface of the plugin has 1 main section and 6 sub-sections. The main section of the interface shows the selected instrument, BPM, and the position of the instrument. It also shows Folders and Items on two separate screens.
The 6 sub-sections show the following screens to help distinguish the capabilities of this plugin from one another to give an easier user experience:

1 - Library
2 - Keymaps
3 - Effects
4 - Scales/Ragas
5- Pitch/MPE
6 - Modulators
 
Everything about SwarPlug relates to two things in our opinion, at least that's definitely the idea we got: Ease of use and Quality! We love that combo when it's done properly and in Swar's case, it is done perfectly!
We would like to mention some of the key features of the SwarPlug in the small bullet-point section below, but we will be giving you a detailed description later on in our post:


Key features
Over 80 perfectly sampled Indian instruments
Customizable mapping of playing areas with specific parameters settings
Multi-mic fader (for ML instruments)
MPE support
Cross-Legato mode for seamless cross-fading pitch bendings
Scales customization with semitone tuning
Modulations panel with a large array of modulation possibilities
Time-stretching
Buses and effect
and much more...
And one more thing: SwarPlug is an "M1" chip suitable plug-in! It's been modified to work on all the latest Mac series that contain the latest "M1" chip!
So let's talk about some of the details of SwarPlug. SwarPlug comes jam-packed with 80 of the finest Indian instruments and we have tested them all out. Do you want the truth? They all sound GREAT! SwarPlug manufacturers have divided the entire instruments into 10 main categories and then they get divided into their sub-categories within them.
We believe this makes the user experience much better and easier to navigate around when looking for a specific instrument. 10 main categories are as follows:

1- Drums
2- Plucked Strings
3 - Bowed Strings
4 - Wind
5 - Voice
6 - Bells
7 - Keyboard
8- Other Percussions
9 - Drone
10 - Clear Instrument

Like we said above, dividing instruments into such specific categories makes any producer's job easier and helps us save precious time. Cos, who wants to go and look for a sound for hours right? Saving time and making an "Easy-To-Use" user interface is all that we always desire as musicians and "SwarPlug" has delivered that precisely!


We can go ahead and name some of the instruments below to give you even bigger excitement:

1 - BIHU DHOL
2 - CHENDE
3 - BANJO
4 - EKTARA
5 - ISRAJ
6- SARANGI
7 - ANSURI
8 - BANGOZAY
9 - BOLS
10 - SARGAM

These are to name only a few instruments but believe when we say; this is only the tip of the "Iceberg".
KEYMAPS
The KEYMAPS section lets you customize the different playing styles/parts of the instrument. Each one can be positioned at a specific key range and set to specific parameters.
You can also have the same style on different rows. You can drag additional instances of a style from the bottom of the screen.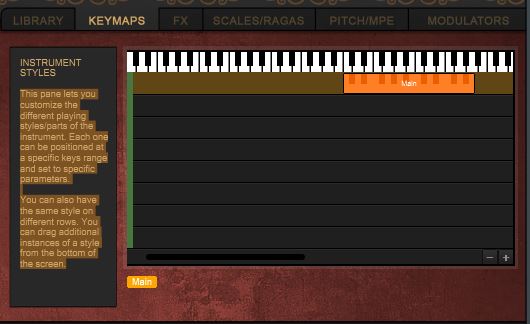 FX SECTION

Alongside their instruments, SwarPlug comes with a section of "Built-In" effects as well and these FXs are quite powerful and they can be tweaked as you desire to help the sound design of your instrument to make it sound even more diverse. We have carefully tested all of the effects of this plugin to make sure to give you the ultimate advice we possibly can. There are 4 main effects that can be added and tweaked on the FX panel and they are as follows:



1 - Ladder
2 - EQ
3 - Convolution
4 - Reverb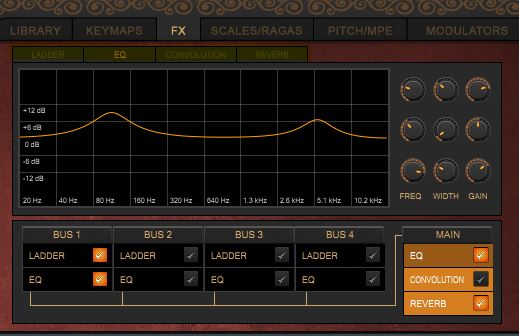 All of the effects can be tweaked to the finest detail to make them suit your sound design and to make them fit in the mix. You can add reverb, play with its gain, tail and turn around, and EQ the unnecessary frequencies without having the need for a third party plug-in which makes 
SwarPlug that much diverse and desirable.
SCALES/RAGA
The scales and Ragas section allows one to specifically customize your sound to a western scale or an Indian Raga. The drop-down menu on top of the section shows you a variety of scales/raga to chose from. When you chose a scale/raga, you will see the notes flash that are included in that scale/raga flash up. This will make your job easier to know which notes that are involved so you can go ahead and play without any confusion or write down a midi progression within that scale/raga by using the same notes. Do not forget to check the "Ignore Other Notes" box to only play the notes in that scale/raga.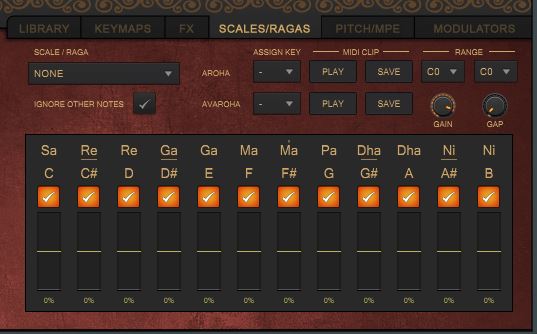 PITCH/MPE

This section here contains all of the information and controls regarding the pitch adjustments and the Midi Polyphonic Expression.
The Pitch section allows you to change the pitch of any instrument completely and lets you pitch-shift it into the right key of the song. This way, you can use any instrument in any given way to make it fit into any song by tuning it into the right route-note.
You can use the drop-down menu to pick a specific key as well. 
PBR section is also a very important part of the Pitch/Mpe section of the SwarPlug which comes in very handy in Indian music. This is purely because, in Indian music, a higher range of semi-tone tweaking is required compared to western music which is usually tweaked by 2 semitones.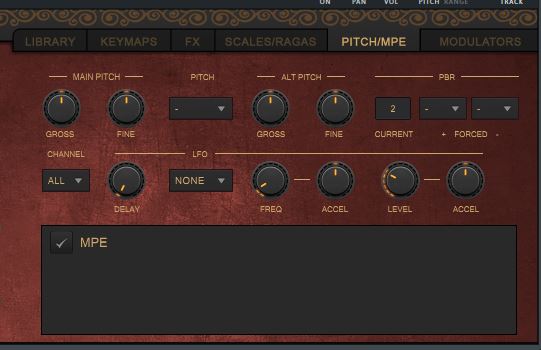 One more important section here is the LFO! The LFO section allows you to add a Low-Frequency Oscillator to modulate either the pitch or the volume of the chosen instrument.
By using the "Level" and the "Accel" knobs, you can adjust their depth and frequency. This option here gives you so much freedom and control over your instruments that you will not feel the need for a third-party plugin to do the job.
MODULATORS

The modulators section allows you to modulate all of the controls on SwarPlug.
Almost every single control on the SwarPlug can be modulated by using a large section of modulators. In order to modulate a control, you have to choose the control you want to modulate and then turn around and link to a modulator.

3 main sections in the modulators section define the character of your modulation choice. These sections are:

CC
CHANNEL MSGS (After-Touch, Pressure, Note On-Velocity, Note Off-Velocity)
MPE MSGS (MPE Note On-Velocity, MPE Note Off-Velocity, MPE PRESSURE, MPE TIMBER)
When the connection between the parameters and the modulators has been made, the next step is to decide the direction of the modulation. You can easily choose one of the directions from the drop-down menu which are "Upwards, Downwards or Centered".
How to add a modulation? Very simple! All you have to do is to click on the "Add Modulation" button and select the parameter you want to modulate from the drop-down menu and add it.
The modulation capability is available for every instrument within SwarPlug and you can modulate all of the parameters for them freely and as you desire.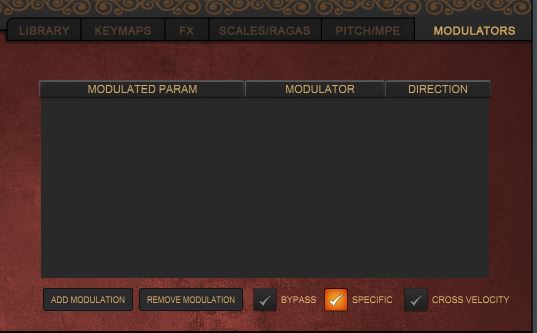 With all that being said about this amazing plugin! We would like to tell you that we've had an amazing time reviewing SwarPlug 4! 
We can easily say that it is the best Indian Instrument Plugin that's out there and there isn't anything like it. Is there room for growth to make it a better plugin? Of course, there is! Growth is an ongoing process and it never ends. 
Please check out Swar VST via the link below and grab your copy if you enjoy what you've seen here!

http://www.swarvst.com 

Also, do not forget to follow the Swar family via the links below:


Musician Life

24/2/2022