Product Description
---
Amazing EQs and Compressors
The Slate Digital VMR 2.0 brings you a range of stellar plug-ins modeled after legendary analog hardware. Between the FG-N and FG-S equalizers, and the FG-401 and FG-116 compressors, you've got all the tools you need to create mixes with punch, warmth, richness, and detail. And VMR modules are highly CPU efficient, which means you'll have more processing power during mixdown. VMR 2.0 is guaranteed to speed up your workflow. Not only can you switch between eight customizable channel strip configurations using VMR's Dream Strips, but there's also something to be said for having your entire processing chain available in one convenient window. The Slate Digital VMR 2.0 puts the analog channel strip of your dreams right inside your DAW.
Create the channel strips of your dreams with VMR 2.0
Version 2.0 of Slate Digital's VMR includes lots of tweaks, improvements, and added features. At Sweetwater, we appreciate VMR 2.0's slicker browser with thumbnail and list modes, as well as a handy search function. Clear the entire rack with the touch of a button. Benefit from faster loading times. Convenient undo/redo buttons allow you to get creative without losing your settings. Heavy saturation and distortion sound better than ever, thanks to VMR 2.0's oversampling option. And per customer request, the noise has been removed from the FG-N, FG-S, FG-Stress, FG-73, and FG-76 modules. The most exciting new feature, however, is VMR 2.0's Dream Strips. Dream Strips give you instant access to eight customizable channel strip configurations, allowing you to audition full signal chains with a single click.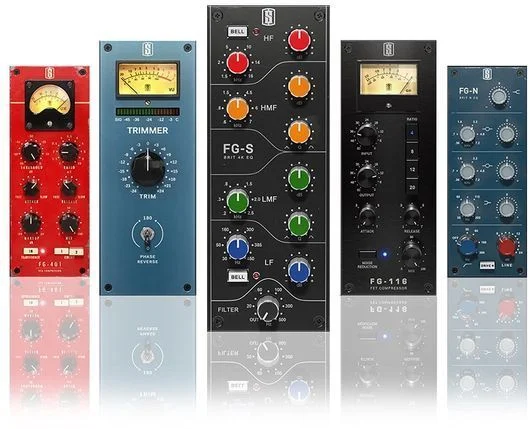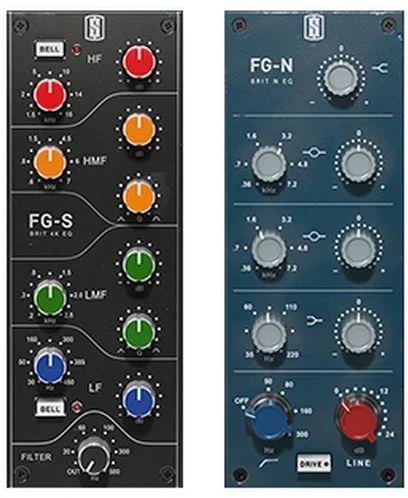 Two analog-modeled EQs you'll want to use on every mix
The spectrum-shaping side of the VMR Virtual Mix Rack plug-in includes the FG-N and FG-S equalizer modules. The FG-N is a glorious-sounding equalizer based on a legendary British design, modeled to perfection. You get the lovely saturation in the filters, along with the subtle harmonics that give this EQ its unique character. The FG-S is another classic equalizer modeled from a famous mixing desk EQ, and it's the ultimate workhorse, perfect for aggressive drums, bass, and guitars.
Control or fatten any track with VCA- and FET-modeled compressors
Whether you want inconspicuous dynamics control or want to crush a drum mix for an epic sound, you've got the tools you need in the VMR 2.0 plug-in. With two unique circuit paths and a gorgeously fat-sounding transformer, the FG-401 compressor is a hybrid of some of the most popular VCA channel compressors in use today and gives you impressive sonic variety. The FG-116 is a dead-on re-creation of a classic American FET compressor. Slate CTO Fabrice Gabriel says this was the most difficult compressor he's ever modeled, but we think he managed to re-create all the little nuances that give this compressor its iconic sound.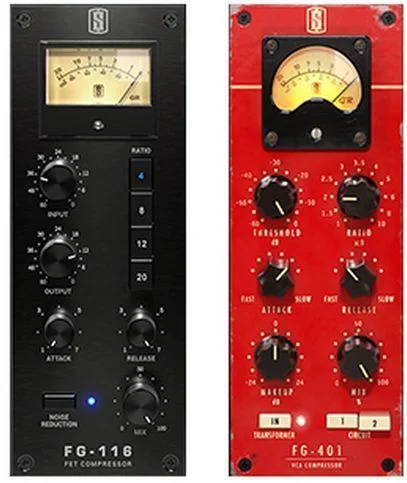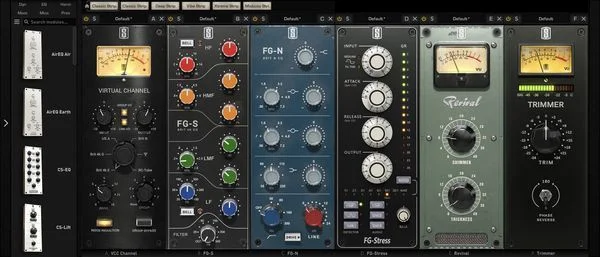 Grow your Virtual Mix Rack however you need
While the Slate Digital VMR 2.0 packs a ton of value with four outstanding plug-in processors, that's just the beginning. The modular nature of VMR allows Slate Digital to continue to make new modules available for existing VMR users. That means you get a sweet set of plug-ins now, with the ability to grow your selection in the future.
Included Plug-ins:
FG-N

equalizer is based on a vintage British design, with exceptional tonal character

FG-S

equalizer is a famous mixing desk EQ, a workhorse that's suited for almost any task

FG-401

compressor is based on a popular modern VCA compressor with two distinct circuit paths

FG-116

compressor is based on a classic American FET compressor, perfect for punishing drums and guitars

TRIMMER

is a simple Trim control and a Phase Reverse switch with precise output level monitoring.

THE MONSTER

compressor emulates the classic "all buttons in" extreme compression sound

REVIVAL

is the product of years of research into what makes things sound "better"
Slate Digital VMR 2.0 Features:
EQ and compression plug-ins painstakingly modeled on classic analog hardware
Access your entire processing chain in 1 convenient window
Dream Strips give you instant access to 8 customizable channel strip configurations
Slick browser with thumbnail and list modes, as well as a handy search function
Clear the entire rack with the touch of a button
Convenient undo/redo buttons allow you to get creative without losing your settings
Oversampling option ensures that heavy saturation and distortion sound better than ever
---
View Installation Instructions
System Requirements
macOS 10.12, 10.13, 10.14
Intel Processor, 4GB RAM
AU, VST2, VST3, or AAX 64-bit host
Windows 8 or 10
Intel or AMD Processor, 4GB RAM
VST2, VST3, or AAX 64-bit host