Product Description
---
Makes Dialog Restoration Easier
Cleaning up subpar dialog recordings is a difficult, time-consuming endeavor, but WaveArts Dialog 2 makes it much easier. This all-in-one dialog restoration plug-in includes a bevy of modules, including lowpass and highpass brickwall filters, de-hum and de-buzz processing, broadband noise reduction, de-ploding, de-essing, a 10-band EQ, compression, and limiting, and is ideal for repairing and sweetening voice-overs, locations recordings, and broadcast. Dialog 2 includes comprehensive metering to ensure optimal levels, is fully automatable, and includes a preset manager for quick, effective results. If you're struggling with poorly recorded dialog, WaveArts Dialog 2 is a smart, time-saving solution.
Note: This product requires an iLok (not included) for authorization. Please call your Sweetwater Sales Engineer if you have questions.
Everything you need to repair and maximize the dialog
WaveArts Dialog 2 contains all the tools you need to repair and maximize dialog material, all organized into easy-to-navigate modules. Lowpass and highpass brick wall limiters make cleaning up low and high frequency ranges a cinch. De-hum and de-buzz processing reduce 10 harmonics of either 50Hz or 60Hz and squelch line frequency interference. De-noise deploys WaveArts's MR Noise algorithm to make short work of broadband noise. De-plode and De-ess tame plosives and excessive sibilance. You also get a 10-band EQ with 11 filter types and a top-shelf compressor, both culled from WaveArts's TrackPlug plug-in, along with a peak limiter. The engineers here at Sweetwater also appreciate Dialog 2's comprehensive metering. It's a must-have for ensuring optimal levels. Beyond that, separate presets for each of Dialog 2's modules allow you to get great results fast.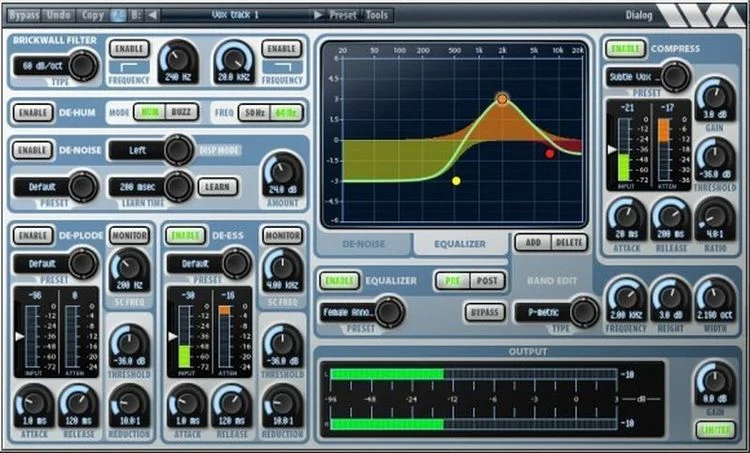 WaveArts Dialog 2 Plug-in Features:
All-in-one dialog restoration plug-in with easy-to-navigate modules
Lowpass and highpass brick wall limiters for cleaning up low and high-frequency ranges
De-hum and de-buzz processing reduce 50Hz/60Hz hum and line frequency interference
De-noise makes short work of broadband noise
De-plode and De-ess tame plosives and excessive sibilance
10-band EQ with 11 filter types offers powerful sound shaping
Compressor and peak limiter even out erratic dynamics
Comprehensive metering ensures optimal levels
Preset manager for quick, effective results
---
View Installation Instructions
Software Type:

Post production

Platform:

Mac, PC

Upgrade/Full:

Full

Download/Boxed:

Download

Bit Depth:

32-bit (PC), 64-bit

Format:

AAX, VST3, AU

Hardware Requirements - Mac:

Intel Core 2 Duo or higher, 4GB RAM minimum

Hardware Requirements - PC:

Intel Core 2 Duo / AMD Athlon 64 X2 or higher, 4GB RAM minimum

OS Requirements - Mac:

OS X 10.11 or later

OS Requirements - PC:

Windows 7 SP1 or later