Product Description
---
Everything You Need to Produce World-class Vocals
Combining Antares' Auto-Tune Pro and AVOX 4, Auto-Tune Vocal Studio gives you everything you need to produce killer vocal tracks. Create vocals with perfect pitch and timing using Auto-Tune Pro, then add warmth, doubling, harmonies, and more with AVOX 4. If you produce vocals, Sweetwater wholeheartedly recommends this powerful arsenal of plug-ins.
Auto-Tune Pro — industry-standard pitch and time correction
With Auto-Tune Pro, Antares' industry-standard pitch and time correction plug-in has received a serious upgrade. For starters, the plug-in has gotten a facelift. Whether you're diving into Auto-Tune's deep features or just scratching the surface, this streamlined interface makes it incredibly easy to use. Auto-Key is a huge time-saver, automatically detecting the key and scale of your project. If you're feeling nostalgic, you'll love Auto-Tune Pro's Classic Mode — it gives you the "Auto-Tune 5 sound" used on numerous iconic pop recordings. Enjoy close integration with your DAW, thanks to Audio Random Access support. Beyond that, you can control Auto-Tune Pro's key parameters in real-time with your MIDI controller.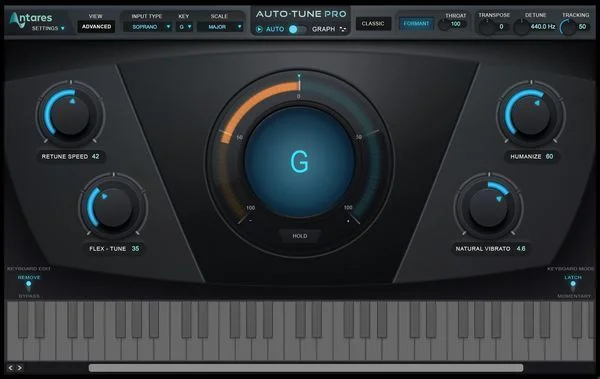 Features:
Industry-standard pitch and time correction
Streamlined user interface offers ease of use and an efficient workflow
Auto-Key automatically detects the key and scale of your music
Classic Mode provides access to the "Auto-Tune 5 sound"
ARA (Audio Random Access) allows for closer integration and exchange of information between the plug-in and your DAW
Control key parameters in real-time with a MIDI controller
Flex-Tune and Humanize technologies tune vocals without sacrificing their natural expressive gestures
Create a dramatic "Auto-Tune Effect" by cranking the Retune Speed
Time Correction touches up timing errors and allows you to rework a track's timing without re-recording it
Perform in real-time without any distracting delay using Low Latency Mode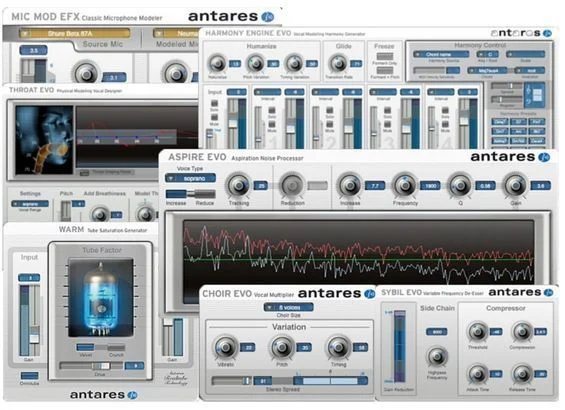 AVOX 4 — 11 amazing vocal tools in one great bundle
With Antares AVOX 4 in your toolbox, your vocal tracks will sound better than ever. You get 11 incredible modules inside of AVOX 4, and each is a great tool on its own. But the vocal-processing power you get from this bundle makes it an incredible value! From subtle warmth and doubling to harmony generation to out-of-this-world vocal effects, this package is a winner. Whether you're tweaking a vocal to perfection or inventing entirely voice effects, you need AVOX 4!
Features:
Harmony Engine Evo

 vocal modeling harmony generator: quick and easy realistic harmonies

Mic Mod EFX

 Classic microphone modeler: lets you extract maximum quality from your mics

Mutator Evo

 extreme voice designer: unique vocal special effects and post-production sound design

Articulator Evo

 digital talkbox: talking guitars, singing synths, whispering voices, special effects

Warm

 tube saturation generator: warms up vocals with Antares analog tube modeling technology

Aspire Evo

 aspiration noise processor: modifies voice breathiness independently of harmonic content

Throat Evo

 physical modeling vocal designer: subtly or radically re-sculpt vocal characteristics

Duo Evo

 vocal modeling auto-doubler: automatically generates a great-sounding vocal double

Choir Evo

 vocal multiplier: transforms a single voice into up to 32 distinct individual unison voices

Punch Evo

 vocal impact enhancer: lets your vocal cut through a dense mix with clarity and punch

Sybil Evo

 variable frequency de-esser: tame sibilance with a flexible compressor and variable sidechain
---
View Installation Instructions
Tech Specs
Software Type:

Auto-Tune Vocal Studio

Platform:

Mac, PC

Upgrade/Full:

Full

Download/Boxed:

Download

Bit Depth:

32-bit, 64-bit

Format:

AAX Native, VST3, AU

Authorization Type:

WIBU CodeMeter (download)

Hardware Requirements - Mac:

 Intel Multi-core Processor, 4GB RAM or more recommended

Hardware Requirements - PC:

Intel / AMD Multi-core Processor, 4GB RAM or more recommended

OS Requirements - Mac:

OS X 10.9.5 or later

OS Requirements - PC:

Windows 8.1 or later

Manufacturer Part Number:

AutoTuneProVS