Product Description
---
Industry-standard Pitch and Time Correction for Avid DSP Systems
Auto-Tune Hybrid offers industry-standard pitch and time correction for Avid DSP hardware, including Pro Tools | Carbon interfaces, Pro Tools | HDX systems, and VENUE | S6L systems. The first thing you'll notice after you fire up Auto-Tune Hybrid for the first time is how easy it is to use, courtesy of its streamlined interface. Auto-Key is a huge time saver — it automatically detects the key and scale of your project. If you're feeling nostalgic, you'll love Auto-Tune Hybrid's Classic Mode — it gives you the "Auto-Tune 5 sound" used on numerous iconic pop recordings. Enjoy close integration with your DAW, thanks to Audio Random Access support. Beyond that, you can control Auto-Tune Hybrid's key parameters in real-time with your MIDI controller. While Auto-Tune Hybrid is optimized for lightning-fast DSP-powered performance, it also performs admirably on native Pro Tools systems.
Note: Antares Auto-Tune Hybrid compatibility is limited to the Avid AAX format. For hosts that support VST2, VST3, and AU plug-ins, you'll want Auto-Tune Pro. For more information, call your Sweetwater Sales Engineer.
Tailor-made for Pro Tools and Avid DSP hardware
Avid's HDX DSP acceleration offers some of the best hardware-software integration out there, enabling you to run an insane number of plug-ins with real-time, latency-free monitoring. Auto-Tune Hybrid enables you to use Antares' industry-standard pitch and time correction while taking advantage of the DSP-accelerated muscle of your Avid DSP hardware. Whether you use a Pro Tools | Carbon interface, Pro Tools | HDX system, or VENUE | S6L system, this plug-in delivers battle-tested Auto-Tune pitch correction and vocal effects, optimized for lightning-fast, DSP-powered performance. And since it's designed specifically for Avid's Hybrid Engine technology, Auto-Tune Hybrid lets you move seamlessly between DSP and native processing during tracking, editing, and mixing. Auto-Tune Hybrid is also compatible with native Pro Tools systems, which makes it fully portable. Load it on your laptop, and you're ready for the road!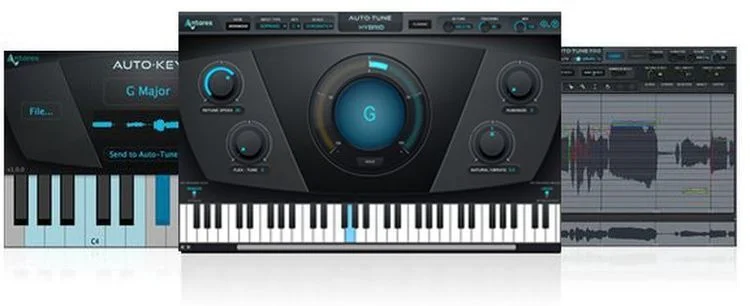 Streamlined user interface yields an efficient workflow
Thanks to its streamlined user interface, Auto-Tune Hybrid is incredibly easy to use. Auto Mode includes two screen views: Basic View and Advanced View. Basic View gives you quick access to Auto Mode's core functions. Advanced View unlocks powerful MIDI, scale editing, and vibrato features. At Sweetwater, we especially appreciate Graph Mode's beefed-up interface in Auto-Tune Hybrid — it's been redesigned from the ground up. The Main Graph is larger and there's greater zoom resolution. You also get user-assignable zoom presets and reconfigured controls that are sure to increase your efficiency.
Detect the key and scale of your music with Auto-Key
One of the best time-saving features of Auto-Tune Hybrid is Auto-Key. This plug-in automatically detects the key and scale of your music. It then sends that information to one or more instances of Auto-Tune Hybrid. Even if you already know the key and scale of your project, Auto-Key still makes it a breeze to simultaneously set the Key and Scale parameters of multiple instances of Auto-Tune.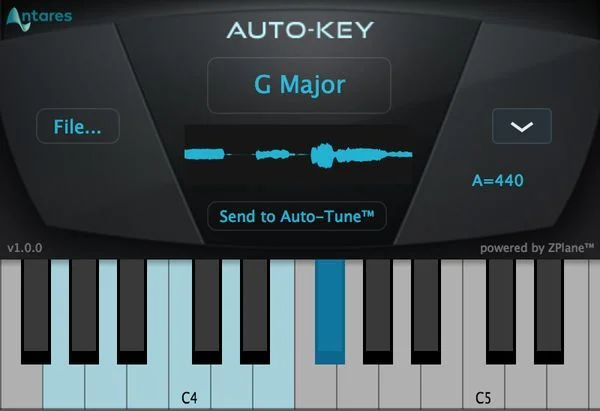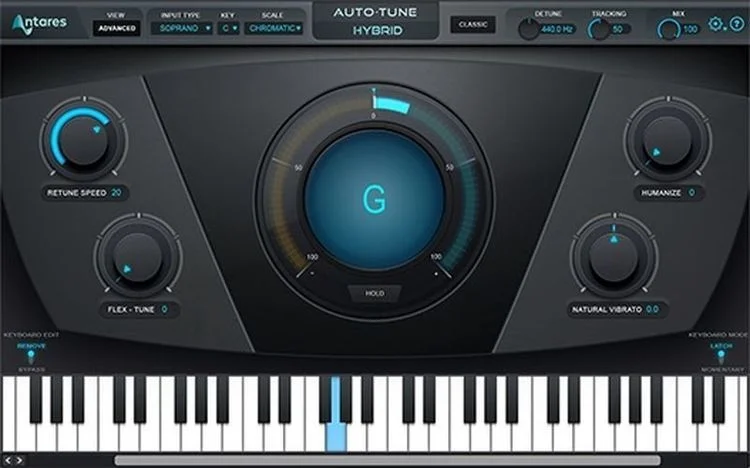 MIDI Parameter Control allows real-time control via MIDI controller
By virtue of its MIDI Parameter Control functionality, you can play Auto-Tune Hybrid like an electronic instrument. Simply grab your favorite MIDI controller and take command of Retune Speed, Flex-Tune, Humanize, Throat Length, and Vibrato in real-time.
"Create amazing vocals at breakneck speed"
"The high-quality real-time tuning functions of Auto­-Tune allow me to create amazing vocal stacks at breakneck speed. It's also a great creative tool to play with formants and make new crazy sounds. It's on every writing, production, and mixing session I'm involved in." — Fabrice "Fab" Dupont (Queen Latifah, Jennifer Lopez, David Crosby, Isaac Hayes, André 3000, Snarky Puppy, Shakira)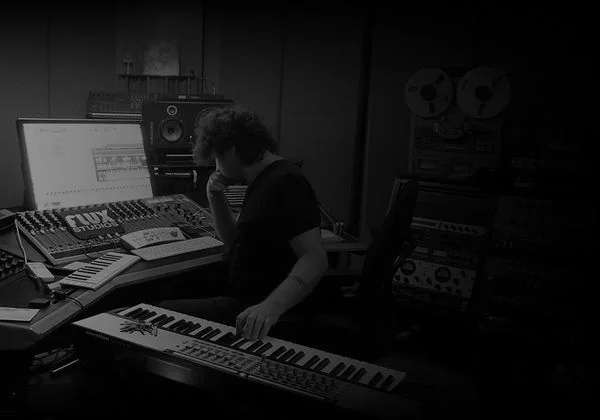 Antares Auto-Tune Hybrid Features:
Offers industry-standard pitch and time correction for Avid DSP hardware, including Pro Tools | Carbon interfaces, Pro Tools | HDX systems, and VENUE | S6L systems
Streamlined user interface for ease of use and an efficient workflow
Auto-Key automatically detects the key and scale of your music
Classic Mode provides access to the classic "Auto-Tune 5 sound"
ARA (Audio Random Access) allows for closer integration and exchange of information between the plug-in and your DAW
Control key parameters in real-time with a MIDI controller
Industry-standard pitch and time correction
Flex-Tune and Humanize technologies tune vocals without sacrificing their natural expressive gestures
Create a dramatic "Auto-Tune Effect" by cranking the Retune Speed
Time Correction features touch-up timing errors and allows you to rework a track's timing without re-recording it
Perform in real-time without any distracting delay using Low Latency Mode
---
View Installation Instructions
Tech Specs
Software Type:

Vocal pitch & time correction

Platform:

Mac, PC

Upgrade/Full:

Full

Download/Boxed:

Download

Bit Depth:

64-bit

Format:

AAX Native, AAX DSP

Hardware Requirements - Mac:

 Intel Core 2 Duo or higher, 4GB RAM minimum

Hardware Requirements - PC:

Intel Core 2 Duo / AMD Athlon 64 X2 or higher, 4GB RAM minimum

OS Requirements - Mac:

macOS 10.13 or later

OS Requirements - PC:

Windows 10 or later

Manufacturer Part Number:

Auto Tune Hybrid